Performance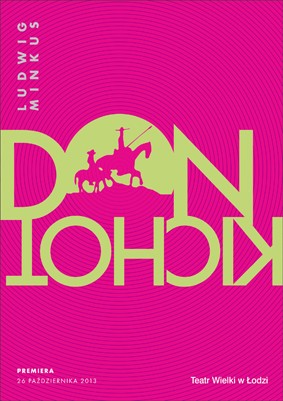 DON QUIXOTE
Composer:
Ludwig A. Minkus
Author of the libretto:
Marius Petipa, edited by Alexandr Polubentsev
Date of the premiere:
26.10.2013
Duration:
2 h 10 min. (1break)
Producers:
Choreography:
Alexandr Polubentsev, based on Marius Petipa and Alexander Gorsky's choreography
Set design and costumes :
Viacheslav Okunev
Libretto:
Marius Petipa, edited by Alexandra Polubentseva
Music director:
Tadeusz Kozłowski
The Don Quixote ballet was created by Marius Petipa, the choreographer, and Ludwig Minkus, the composer. Despite the fact that the piece is almost 150 years old, it still appeals both to the audience and artists. Marius Petipa used an episode about Gamache's wedding party from Miguel Cervantes' novel, while writing the libretto. This episode has often been used by various choreographers, but Petipa's staging in Gorsky's version is the most famous one.

The premiere of Petipa's ballet took place in 1869 in Bolshoi Theatre in Moscow. After the premiere Petipa staged a lot of new versions of Don Quixote. In 1900 Alexander Gorsky created his own version of the piece. He included many new fragments and a whole new part entitled Don Quixote's Dream, which was choreographed by him entirely.

Don Quixote was staged in the Grand Theater Łódź only once; the premiere took place on 31 May 1986. It was produced by Witold Borkowski, the choreographer, Aleksander Tracz (music director) and Jadwiga Jarosiewicz (set designer).


Don Kichot:
DOMINIK MUŚKO
Sancho Pansa:
JAN ŁUKASIEWICZ, WOJCIECH DOMAGAŁA
Don Basilio:
GINTAUTAS POTOCKAS, RYO TAKAYA
Kitri:
MONIKA MACIEJEWSKA, MINORI NAKAYAMA, EKATERINA KITAEVA-MUŚKO
Lorenzo:
GRZEGORZ BROŻEK, PIOTR RATAJEWSKI
Gamache:
KRZYSZTOF PABJAŃCZYK, PIOTR RATAJEWSKI
Espada:
DOMINIK MUŚKO, WITOLD BIEGAŃSKI, GINTAUTAS POTOCKAS
Mercedes:
EKATERINA KITAEVA-MUŚKO, WALENTYNA BATRAK, MONIKA MACIEJEWSKA
Amor:
HANNAH SOFO, MINORI NAKAYAMA
Friends Kitri (Juanita, Piccilia):
ANETA KOSMOWSKA, CAROLINE BULST, MARTA BORCZAKOWSKA, SAKURAKO ONODERA
Dolores:
JULIA SADOWSKA, BOGUMIŁA SOŁEK, EWA KOWALSKA-BRODEK
Soloists, coryphées and the corps de ballet and orchestra of the Grand Theater Łódź
Conductor:
TADEUSZ KOZŁOWSKI


Grand Theater Łódź
Plac Dąbrowskiego,
90-249 Łódź, Poland
telephone +48 42 647 20 00
tel./fax +4842 631 95 52